The Best Chair Massage Watertown Ma Has To Offer
If you're looking for professional and affordable chair massage in Watertown, Massachusetts or in the surrounding towns, then look no further than Morgan Massage.
For over 17 years, Morgan Sutherland, owner of Morgan Massage, has set up chair massage in countless conference rooms and offices of all sizes.
Boost Employee Morale and Increase Productivity
Prolonged sitting with turtle neck posture at a computer for hours on end can wreak havoc on employees' necks, shoulders, and backs.
Recent studies have reported chair massage as safe and effective for stress reduction, relaxation, pain relief, fatigue, and quality of life.
The compression, squeezing and kneading techniques that occur during a chair massage session will leave employees feeling both relaxed and energized. These chair massage techniques can quickly melt the stress and chronic stiffness that many office employees experience.
Chair massages can break that cycle of tension and help employees feel rejuvenated and better able to tackle a heavy workload.
How Can Chair Massage Help Your Company?
Onsite chair massage is perfect for any company looking to increase employee morale. Did you know that offering massage, and in particular, chair massage, to your employees can improve your bottom line?
As an office manager or small business owner, you are probably always on the lookout for ways to increase employee morale and decrease absenteeism. You might also know that the first leads to the second, but increasing employee morale has even more benefits.
These additional chair massage benefits include:
1. Increased productivity
2. Increased personal investment in the success of your business
3. Less turnover, which means less time and money taken away from your core business strategy
All of these factors have been shown to directly influence the success of a company, no matter what industry it is in. It is a simple fact that happier employees are 12% more productive.
Chair Massage Is Quick and Easy To Set Up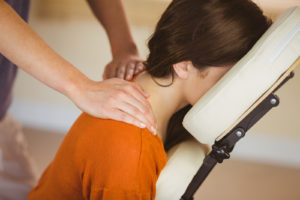 Yet another benefit of chair massage is the ease with which it can be set up. Only a small space is needed. Morgan Massage has set up chair massage in conference rooms and offices of all sizes.
Unlike table massage where the client has to disrobe and gets greasy with oils and creams, chair massage is performed with the client in full work attire. This is important because some people who are massage newbies might shy away due to the embarrassment of needing to disrobe.
A chair massage session usually takes about 15-minutes. This is an important factor because some businesses cannot afford to have large blocks of time unattended during the business day. 15-minutes gives the employee time to relax and unwind and also offers the massage therapist enough time to work their "massage" magic.

Planning a Health Fair or Employee Appreciation Day?
Offering seated chair massage for your employees is a fantastic way to show appreciation and support. All of this will lead to better morale and increased productivity. Your company or small business will benefit by offering chair massage to its hardworking employees.
Many of companies have offered chair massage to their employees as part of a Wellness Day or as a segment of an Employee Appreciation Day. Some of them have seen such a difference in morale and productivity that they schedule regular monthly chair massage sessions.
"As a technology company of just under 100 employees, we hired Morgan Massage to provide seated chair massages over a 2-day period, at our office in Cambridge (80% men, 20% women). Morgan was very professional and was able to make each person feel extremely comfortable. He set-up quickly, his equipment was new and clean and he provided a nice touch of light music. He had no problem doing 20+, 15-minute chair massages throughout the day, and the last massage of the day was just as great as the first. I would highly recommend Morgan Massage for any company that is looking to reward it's employees with a professional, relaxing and therapeutic experience!"

– Brightcove, November 2006
What Does Chair Massage Cost? 
Morgan Massage offers affordable pricing.  Chair Massage rates are calculated by TOTAL HOURS of massage.
These hours are determined by the # of people receiving massages and the length of each massage session.
See Morgan's Chair Massage Pricing below:
Watch Morgan's Chair Massage Video Below
Morgan has provided Chair Massage at over 20 companies:
Athena Health (Watertown, MA)
Mount Auburn Hospital (Watertown, MA)
Newton-Wellesley Hospital (Wellesley, MA)
Gillette (Needham, MA)
The Clarks Companies (Newton, MA)
Molecular (Watertown, MA)
Bank of America Investments (Newton, MA)
Alkon & Levine, P.C. (Newton, MA)
Ardence, Inc. (Waltham, MA)
Brightcove (Cambridge, MA)
Brandeis University (Waltham, MA)
Bentley University (Waltham, MA)
Golden Living Center (Newton, MA)
Fresh Pond Animal Hospital (Belmont, MA)
Blueprint Schools Network (Newton, MA)
Sun Life Financial  (Wellesley, MA)
OTA The Koomar Center (Newton, MA)
ClearBridge Technology Group (Billerica, MA)
Cayan-Boston (Boston, MA)
Healthcare Advances (Weston, MA)
Algeus (Waltham, MA)
Uber-Boston (Boston, MA)
Benchmark Senior Living at Waltham Crossings (Waltham, MA)
Forum Systems (Needham, MA)
Cartera Commerce (Lexington, MA)
Health Advances (Weston, MA)