4 Common Causes of Back Pain (source: Treat Your Own Back)
Maintaining a natural lordotic curve is essential in preventing postural related back pain. These curves work as shock absorbers, helping to distribute weight along the length of the spine.
Neglecting your posture, sitting and standing for long hours with poor posture, and lifting improperly can all lead to back pain. 
Below are the 4 most common causes of back pain:
#1  Postural Neglect:
Rounding your low back while sitting for extended hours in front of the computer
Poor lifting techniques
Prolonged forward bending while working
Standing or lying for long periods of time in a poor position
#2  Sitting: 
Slouching while sitting at a restaurant, cafe or movie theater
Sedentary office jobs that require endless hours of sitting can overstretch the back muscles, distorting the vertebrae, potentially causing the bulging or herniated discs
#3  Standing (or poor lying posture)
Standing (or lying) for long periods of time, the lordosis can become excessive and pain results
Working in stooped positions when doing yard work or household chores such as raking, shoveling or vacuuming
#4  Lifting:
Lifting objects with a rounded back can put unwanted pressure on the vertebral discs.  Keeping the body upright, maintaining a natural lordotic curve is a better option when lifting.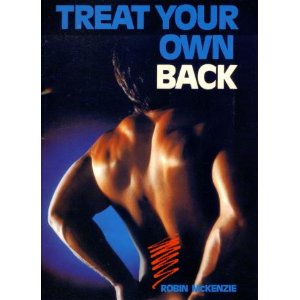 Treat Your Own Back by Robin McKenzie, explains how proper body alignment and posture are essential and by integrating the McKenzie Method home exercise program, your back pain will "centralize" and resolve itself.
A Miracle Massage. I asked Morgan to work on my neck and shoulders and he released months, maybe years, of tension. He is a genius; a calm, spiritual presence who is also a scientist of the body. His enormous amount of knowledge about the body combined with his massage artistry and craftsmanship make it a most healing massage. If you have any body issues, he's the best.
- Deborah Milligan