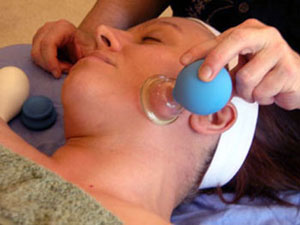 Attention Jaw Pain & Sinus Headache Sufferers:  Cupping Therapy Brings Instant Relief!
The most common form of jaw pain is TMJD, or temporal mandibular joint dysfunction, and it affects more than 10 million Americans according to the National Institute for Dental and Craniofacial Research (NIDCR).
For chronic TMJD sufferers, the jaw muscle stiffness and neck pain can be accompanied by sinus headaches forming around the temples.
I just had one of Morgan's great massages and it was wonderful as always. During the massage, Morgan used a new device involving suction cups on my jaw area. I was suspicious of it at first, but after it was done, I became a believer. My jaw felt great after the technique was done and it continued to feel relaxed and pain-free for days afterwards. Not only would I recommend Morgan for deep-tissue massages, but now I would recommend anyone that experiences jaw pain to see Morgan.   -James Chaplin
A Gentle and Relaxing Approach to Jaw Pain Relief
The suction of Morgan Massage's Cupping Therapy can helps to open up the joint, and loosen the musculature and fascia around the jaw.
I came to Morgan for a regular theraputic massage, which always leaves me feeling energized, but I also complained about this pain I was experiencing in my jaw. in no time at all, Morgan began to massage my jaw also adding a cupping procedure to release the pain. I was pain free and finally able to open my mouth completely for the first time in 2 weeks! He cured my problem and I am still pain free after 2 days. Thank you Morgan!    -Maria P.
Used in tandem with joint manipulation, the pressure and pain associated with TMJD pain can be relieved as inflammation is decreased and the nerves relax.
You may also like…

4 Natural Ways to Reduce Your Jaw Pain
Massage Cupping Works Out The Knots
I have gone to Morgan many times and have always been thrilled with the results. He really knows his art. When on vacation, I've tried spa massages and there is no comparison, they haven't even come close to Morgan's work. I recommend Morgan highly, he's the best of the best.
- Vanessa S.