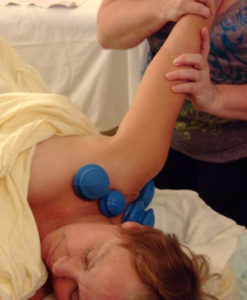 Myofascial Release and Trigger Point Work Using Cupping

When negative pressure Cupping Therapy is combined with range of motion exercises,  both Myofascial Release 
and Trigger Point work can be accomplished.
Myofascial Release involves applying sustained pressure into the myofascial connective tissue restrictions to eliminate pain and restore motion.  Myofascial is comprised of the word "myo" referring to muscle and "fascia", which refers to the collagenous web that surrounds, supports, and connects all of our muscles.
Trigger Point work, also known as Neuromuscular Therapy – helps to alleviate acute and chronic pain conditions, as well as to deactivate "trigger points", which are tight, contracted and hyper-irritable areas in the muscles that refer pain and tingling to other parts of the body. By applying concentrated pressure to release these trigger points, normal muscle movement is restored and the pain spasm cycle is disrupted.
When Cupping Therapy is applied to tight rotator cuff muscles, Myofascial Release is accomplished, stretching the thickened fascia away from the underlying structures, allowing for greater shoulder movement.
Cupping Therapy creates a negative pressure suction over the twisted bundles of the Trigger Points, breaking up the adhesions, painlessly and without the discomfort of force.
Ask Morgan to integrate this Cupping Therapy during your next massage treatment and get sucked in!
Find out more about Cupping Therapy:
The History of Cupping Therapy
I finally booked a massage because I had a very specific issue: back pain that came on so suddenly and dramatically that I was quite concerned. Morgan did a fantastic job of addressing the issue, and also gave me excellent advice re the likely cause and preventive measures. If I have any regrets, it's that I wish I'd booked 90 minutes rather than 75. Looking forward to going back.
- Stuart S.