Kyrobak Review
This is my Kyrobak Review.  I had to learn the hard way how to get relief from back pain at home.  You see, after lifting my 5000 BTU Friedrich air conditioner up to the third floor, I experienced a muscle spasm in my upper left buttocks muscle with sciatic pain that traveled down to the outside of my hip. Not a fun experience to go through, but it was not over.  Burning pain centralized into my lower back.
Ruling out that it was a disc herniation by performing the straight leg test, I deduced that it was a muscle strain and started stretching my low back and strengthening my core muscles.  You see, I had a blueprint to work with because I wrote a book about it called  DIY Low Back Pain Relief book is the perfect guide to follow if you're stumped with which stretches and strengthening exercises to do.
But this blog post is NOT about me plugging my book, although, I'm very proud of it and think everyone should buy it.
It can be exhausting doing all these stretches and exercises to save my back, and sometimes you need a break from it all. Unfortunately, resting a back problem for too long can leave you worse off.
Lying down on the floor can at first feel relieving for a back pain sufferer, but quickly the muscles can start to tighten up and you need to bring your knees up.  Well, I spotted a little device while watching an As Seen On TV infomercial called the Kyrobak.
This is my Kyrobak Review.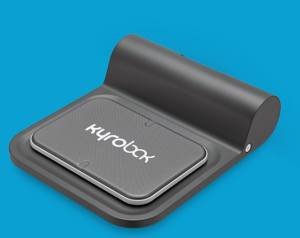 The Kyrobak website claims that it can relieve low back pain in just 10 minutes 3 times per day.  Now don't get the Kyrobak confused with the Back2Life Continuous Motion Massager or the Chi Vitalizer Machine.  They are different back pain relief machines and not the Kyrobak.
So how does the Kyrobak work?
As you lie down on the Kyrobak, it oscillates mimicking the movements of the pelvis as you walk, swaying side to side.
This continuous passive motion technology referred to as CPM can help keep your muscles and joints moving.
This allows your back muscles to loosen up!  
CPM brings motion to your spine- letting the vertebrae open up and decompress.
How to use the Kyrobak in 3 Simple Steps
Step 1: Lay Down
Step 2: Turn it on.
Step 3: Relax.  It automatically turns off in 10 minutes.  So you can chill out,  listen to music, your favorite podcast, meditate, or simply close your eyes and take a power nap.
Clinical Trial
A 2014 clinical trial was conducted to see whether Kyrobak's CPM helped treat chronic low back pain
The study participants were instructed to use the Kyrobak at home for 10 minutes 1-3x per day for 3 weeks.  The results concluded that the Kyrobak was beneficial for short-term relief of non-specific, chronic low back pain.
On the Kyrobak website, it recommends you use it 3 times a day for 30 days.  The study participants only were asked to use it 1-3 times and for 3 weeks.  Thus the statement, "A longer treatment period may lead to a further reduction in pain"
Kyrobak Reviews
Now, on the Kyrobak website they have a number of satisfied Kyrobak users who enthusiastically claim that Kyrobak has taught them how to get relief from back pain at home .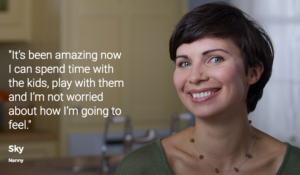 There's Sky the nanny, who can rough house with the kids and not fret about her back when she returns home after a long day.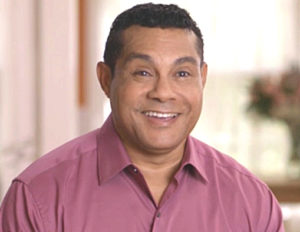 A new mattress didn't help Tony get back pain relief, but after getting Kyrobak, he doesn't just roll out of bed, he JUMPS out of bed.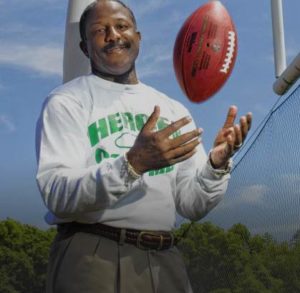 And then there's former pro football player Bruce who after decades of collisions on the field was left with chronic back pain.
Shots and medications didn't provide any relief, but the Kyrobak made him feel like his old self again.
Alright, I know what you're thinking, he's only saying the good things, right? Well, I went on Amazon and found
some…
Bad Kyrobak Reviews.
So I'll share a few with you.
Bad Kyrobak Review #1 (Amazon)

This 2 out of 5-star review is titled "Not for my chronic condition." The customer Barb wrote that she had two back surgeries along with a spinal fusion and sits for hours a day.
The customer Barb wrote that she had two back surgeries along with a spinal fusion and sits for hours a day.  She got her Kyrobak off of Amazon (which I don't' recommend but I'll get into that later) and she says that the Kyrobak did not provide enough movement to give any kind of relief.
It doesn't sound like the Kyrobak was right for her based on her medical history, Remember it's recommended for non-specific low back pain.
Bad Kyrobak Review #2 (Amazon)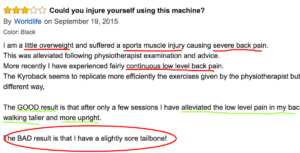 This next 3 out of 5 Amazon review is titled "Could you injure yourself using this machine?"
The customer calling themselves Worldlife writes that she was little over weight and has a sports injury that led to severe back pain that subsided and now she has  low-level pain back pain.
SO this is interesting, she actually had good results claiming it alleviated the low-level pain and she felt taller and more upright.
However, the bad part was that it hurt her tail bone.
It is a small contraction with a one size fits all design, so you'd assume that it would accommodate  various body sizes.  Unfortunately, Kyrobak didn't work for Worldlife.
So what about the GOOD reviews on Amazon?
There's a bunch of 5-star reviews
Good Kyrobak Review #1 (Amazon)

Amazon Customer #1 writes that she suffered for over 11 years with sciatica and gets low back pain 8 days out of the month.  She uses Kyrobak for only 10 minutes ONCE a week followed by a yoga routine and her pain is GONE.
I'm sure the yoga stretching is a great compliment to the Kyrobak.  I actually created a video called the 4 Best Sciatic Nerve Pain Exercises. Watch the video here!
Good Kyrobak Review #2 (Amazon)

Amazon Customer #2 has a bulging disc and has had numerous injections that have failed to relieve their stiff lower back. After one week of Kyrobak, they noticed a big improvement in their range of motion.
Good Kyrobak Review #3 (Amazon)

Buckblaster has two ruptured discs and finds it hard to sit or lay down for very long. After one week using the Kyrobak, they had the best sleep of their life.
Good Kyrobak Review #4 (Amazon)

The reviewer below named P.E. Mross has Rheumatoid Arthritis and an achy lower back.  They used the Kyrobak only once and their back has felt better than it had in a long time.
Now, if you're like me, you like to shop on Amazon for everything, including your bathroom sink, but in this case. I'd recommend you order directly through Kyrobak because not only will you get FREE shipping, but you get a 60-day triple guarantee- that means if you don't love it, return it for a full refund, including shipping & handling and return postage.

If you want to experience a dramatic reduction in back pain, I'd recommend you try Kyrobak.
If you like this video, you might also like: