7 Best Pinched Sciatic Nerve Stretches and Exercises
Making a daily habit of doing pinched sciatic nerve stretches and exercises can dramatically relieve debilitating low back pain and leg pain associated with sciatica.
The sciatic nerve originates in the lumbar spine and runs through that tiny pear shaped buttocks muscles called the piriformis.  When it gets pinched , it can bring on a wave of shooting "electric" pain, numbness, tingling, and even leg weakness.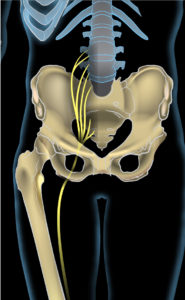 These sciatica symptoms are usually felt primarily felt in the hip (specifically the buttocks), or in the back of your thighs all the way down your calves and at time into the toes.
So What Causes Sciatica?
According to Spine-Health.com, sciatica is most commonly caused by a herniated disc in the lumbar spine, as well as lumbar degenerative disc disease, spondylolisthesis, spinal stenosis, or osteophytes and arthritis in the spine.
Whether your sciatica pain feels like you have an electric eel strapped your your buttock sending pulses of pain down you leg into your foot, or it feels more like a constant, dull ache…
You Need To Exercise
In this article, you're going to learn the 7 Best Pinched Sciatic Nerve Stretches and Exercises.
Once you have mastered these stretches and exercises, you can say adios to that painful, radiating sciatic nerve pain down your leg.
Try doing these 10 exercises 1 time a day for 21 days.  Why 21, well, it's said that it takes 21 days to form a habit.
Once your low back is feeling less sore, you can reduce the stretches to once a day and then three to four times per week for basic back health maintenance.
However, before we begin, I feel like it's my obligation to mention that you should ALWAYS consult with your doctor and get a proper diagnosis.
Let's begin.
Pinched Sciatic Nerve Stretches and Exercises #1: Standing Hamstring Stretch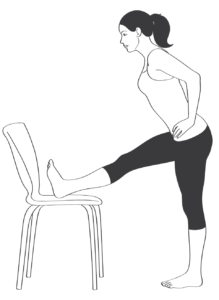 Put your right foot on a support, such as a chair, a table, or a bench. Your foot should be at or below hip level, with your leg straight, your knee and toes pointing straight up, and your quadriceps engaged.
Make sure the hip of your raised leg is not lifted, but rather is releasing downward (without the leg or foot turning outward). Hold for several breaths, repeating on each side.
For a deeper stretch, bend forward over your leg at the hip crease, with your spine and leg straight and your quadriceps firm. Hold for 30 seconds and switch legs.
Now you want to get on the floor.
Pinched Sciatic Nerve Stretches and Exercises #2: Bridge Pose
The Bridge Pose helps to reverse excessive shortening of the hip flexors from prolonged sitting. It helps open and stretch your tight hips, and also helps strengthen the glutes.
Lie on your back with your hips and knees bent to 90 degrees, with your feet flat on the floor and arms palm down by your sides. Draw in your abdominal muscles and keep them like that throughout the entire exercise.
Hold the position for 5–10 breaths.
Pinched Sciatic Nerve Stretches and Exercises #3: Knees to Chest Stretch
While you're still on your back, with your knees bent, grab your left knee and pull it to your chest.
Hold for 20 seconds.
With your abs contracted, try to straighten your right leg.
Now if you experience any soreness in your lower back, just keep your right leg bent.
Repeat this move with the other leg.
Pinched Sciatic Nerve Stretches and Exercises #4: Piriformis Stretch
When performing the piriformis stretch, make sure to contract your abs before crossing your leg and resting your foot on the other knee.
Hold this stretch for 30 seconds and then repeat with your other leg.
Pinched Sciatic Nerve Stretches and Exercises #5: Seated Hip Stretch
While in a sitting position, cross your right leg over your straightened left leg.
Hug your right knee with your left arm, making sure to keep your back straight.
Hold this stretch for 30 to 60 seconds, and then repeat on the opposite side.
Pinched Sciatic Nerve Stretches and Exercises #6: Pigeon Pose
Start in Downward-Facing Dog pose with your feet together.
Draw your right knee forward and turn it out to the right, so your right leg is bent and your left leg is extended straight behind you.
Slowly lower both legs.
Hold the position for five to ten breaths, and then switch to the other side. By now, you should be experiencing some much-needed sciatica pain relief.  But we're not done.  I'm saving the best workout for last.
Pinched Sciatic Nerve Stretches and Exercises #7: Clam Shell Exercise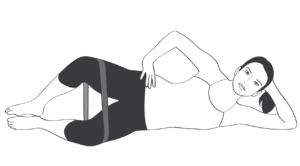 The Clam Shell strengthens hip abductors, because you are lifting them against gravity.
Lie on your side, wi
th your knees pointed forward and bent at a 90-degree angle. Place the resistance band around your knees.
Lift your top knee upwards about 8–12 inches, making sure your upper foot stays in place against your lower foot. Lower your upper knee to the bottom knee. This completes one repetition.
Repeat 15–20 times and then switch sides.
If you're still feeling radiating sciatic pain down your leg…
These 7 pinched sciatic nerve stretches and exercises are from my new Kindle book, Sciatica Pain Relief in 15 Minutes. This book will give you easy-to-understand and follow sciatica exercises to give you pain relief.
You'll learn the following exercises and techniques, accompanied by clear illustrations that demonstrate the proper body positions.
Eleven exercises to reverse your sciatica symptoms in just fifteen minutes per day
Three resistance band strengthening exercises for sciatica relief
How to foam roll your sciatic pain away
Do-it-yourself techniques for SI joint pain
Eleven exercises for instant SI joint pain
Check it Sciatica Pain Relief in 15 Minutes!
Recommended Reading
Best Sciatica Treatment Exercises
Surprisingly Simple Trick Wipes Off Back Pain and Sciatica in 3 Minutes
Sciatica SOS Review – How to Stop Sciatica Pain in 7 Days
Stretches and Exercise for Sciatic Pain from Piriformis Syndrome