Back Pain Relief Book
DIY Low Back Pain Relief: 9 Ways To Fix Low Back Pain So You Can Feel Like Yourself Again
Looking for back pain relief? Do you ever find yourself slouching in your chair, contorting your body like a human question mark? Poor posture can eventually lead to acute back pain, and when that strikes, desperation follows, and finding a quick fix to improve your downgraded quality of life can sometimes lead down the dark path of painkillers and other drastic measures.
Even if you don't have back pain, or you only get a spasm once in a blue moon, I think you would still get a lot out of my back pain relief book, DIY Low Back Pain Relief: 9 Ways To Fix Low Back Pain So You Can Feel Like Yourself Again.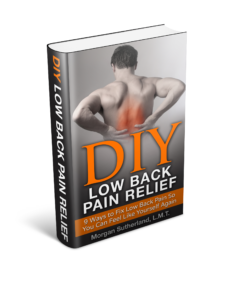 The idea for my book
 materialized because the majority of my clients seek me out for back pain relief. For some, a 60- or 90-minute massage is enough to make them magically float off my table feeling rejuvenated and pain-free.
However, countless clients crave advice about what they can do outside the treatment room so they can continue to experience back pain relief. I wanted to provide them with a sequence of stretches, strengthening exercises and self-massage methods that would give them control over their low back pain.
In the book
, you'll learn to help yourself with simple exercises and increase your quality of living. The book has 59 clearly illustrated detailed instructions on how to stretch, strengthen and reverse the damage of bad posture and current (or future) back problems.
This is a great book for anyone experiencing back pain. Morgan Sutherland takes you through simple exercises that aren't so simple because they really work. I had made my lumbar area scream with too much computer time, but some easy, painless movements and helpful tips have got me almost back to normal. I suspect that another week or so, and I won't remember my back ache. The book is clearly and charmingly written. I highly recommend it.

– C. Meryl on October 21, 2014 (Verified Kindle Format Purchase)
Buy now on Amazon for only $.99 (Kindle Version)
Here's a taste of what you'll learn in DIY Low Back Pain Relief:
Reprogram Your Body to Sit Correctly in Eight Moves
How to Stand the Right Way in Six Moves
Six Exercises to Reverse Bad Posture
Eight Exercises That Will Strengthen Your Core and Save Your Back!
Nine Stretching Sequences for Chronic Back Pain
Seven Back-Saving Yoga Poses
Seven Foam-Roller Moves to Conquer Back Pain
Four Stretches To Do Before You Roll Out of Bed
and more!
This book is a must read if you have chronic back, leg, and or neck pain. As someone who is dyslexic, it is not only clearly written, but easy to follow with beautifully drawn diagrams for each exercise that Morgan recommends. As someone who has experienced many hours of physical therapy for various injuries over the years, it is the first time that I could do every exercise on my own as shown in Morgan's schemata. I can't believe that I tried while reading the book (and continue to do) every exercise that Morgan included in this veritable masterpiece. Most of all, I feel so much better. Cheers to Morgan Sutherland.

-David S. on November 15, 2014 (Paperback format)