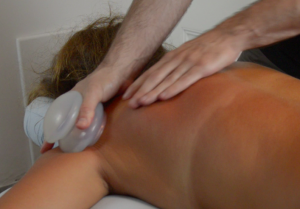 CUPPING THERAPY ASSISTS IN LYMPHATIC DRAINAGE!
Compared to the tediously slow compression work of Manual Lymphatic Drainage, Cupping Therapy does the opposite.
Cupping stretches open the lymphatic vessels, rather than closing them. This action actually increases the movement of lymph locally and systemically with cumulative treatments.
Lymphatic Cupping Massage Improves The Immune System 
Increasing Lymphatic output increases the immune systems ability to detoxify the body and respond to stressors put onto it from disease, chemicals, stress and electromagnetic fields.
Healing After Surgery
Lymphatic cupping massage can greatly benefit pre- and post-operative conditions and helps to speed regeneration of tissues and cells.
Post surgery, a person should wait at least 6 weeks before getting a lymphatic cupping session, or until a doctor clears the patient to receive one.
Read more about Cupping
Morgan worked on my right-side over-use issues from hip and shoulder bursitis to a pinched nerve/carpal tunnel, and I felt worlds lighter and more comfortable afterward. I'm considering one of his frequent massage packages. He's very knowledgeable about sports physiology. Nice intro deal on Angie's List!
- Charlotte P.