AbXCore Review
I've probably spoken to you about the importance of core strength and preventing back injuries and that's why I wanted to give you my honest AbXCore Review.  
Here's my AbXCore Review: 
From their sales page, the AbxCore states that it is a revolutionary way to get fit and activate all your core muscles in just 7 minutes a day. I'll be honest, I really did feel the ab burn after using the AbxCore, but at the same time I was able to go on with my day without residual soreness.
Straining your back doing crunch after crunch will take you back to square one when attempting to defeat your back pain.  So what can you do?
There are a number of core strengthening exercises like planks, and other pilates-inspired workout routines that tone your abs, and they are all great.  However, not everyone has 15 to 30 minutes to work on their core.  BUT, who doesn't have 7 minutes?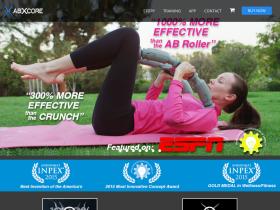 The USC Division of Biokinesiology and Physical Therapy tested the AbXCore and determined that it was 300% more effective than traditional crunches and 10x more effective than the Ab Roller.
The AbXCore will minimize your risk of injury, especially if you have back pain.  There are ways to use the ABXCore while sitting in a chair, so building your core is finally possible. This is huge because so many of my back pain clients have difficulty doing floor exercises pain-free. Using this simple ab machine will make that possible.
Even though the AbXCore advertises that it comes with a personal training app that guides you through each rep with the perfect pace, I couldn't find the app in the iTunes store.

What are the PROs of the AbXCore:
Just 7 minutes a day and you'll get 300% better results than crunch sit-ups
Target and isolate your specific core muscles – rectus abdominis, inner and outer obliques and erector spinae
Minimize risk of injury
Features a compact design with adjustable size and resistance allowing you to customize it to your body and fitness level
FREE shipping
What are the CONs of the AbXCore:
Take a few minutes to assemble, but once you figure it out, you won't have to again
The smartphone holder is sold separately and doesn't come with your purchase
Had some difficulty finding the FREE App, but the instruction manual is more than sufficient
Other than that, no complaints
I'd give the AbXCore a satisfactory score of 4.5/5
So that's my AbXCore review, now all you have to do is take action and use it everyday until you start to feel and see results.
Just don't forget to stretch your psoas (hip flexors) after all the contracting/shortening that you're doing with the abdominals.
You may also like…
6 Exercises That Will Strengthen Your Core And Save Your Back!