Chair Massage

Boost Employee Morale and Increase Productivity
Prolonged sitting with turtle neck posture at a computer for hours on end can wreak havoc on employees' necks, shoulders, and backs.
Recent studies have reported chair massage as safe and effective for stress reduction, relaxation, pain relief, fatigue, and quality of life.
For over 17 years, Morgan Sutherland, owner of Morgan Massage in Watertown, MA has provided On-site Chair Massage to over 20 companies in the greater Boston area. 
Chair Massage is the perfect service to bring in when hosting a Health Fair,  Employee Appreciation Day or Corporate Event.
After a 10 or 15-minute chair massage, your employees will feel relaxed as jello, but at the same time refreshed and ready to get back to the grind. 
According to a recent 2017 study published in Advances in Experimental Medicine and Biology, onsite chair massage performed in the workplace is an effective method for prevention of musculoskeletal overstrain related to prolonged sitting posture.
A 2014 study noted that "high intensity" seated massage (6.6 on a 0-10 pain scale) was significantly more effective than "low intensity" light touch and recipients reported a noticeable improvement in energy, pain, stress, and feeling physically uptight.
7 Reasons Companies Should Hire a Chair Massage Therapist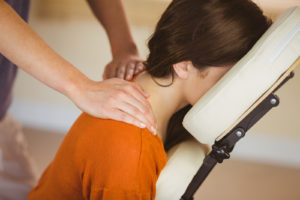 Chair Massage…
1. Increases employee creativity and productivity
2. Boosts employee morale and retention
3. Lessens employee stress
4. Decreases employee absenteeism and turnover
5. Speeds up immune system and energy
6. Reduces tension headaches
7. Helps employees sleep better (after work)
Chair Massage is Easy to Set Up
Chair Massage is performed in a specially designed portable massage chair that can be used anywhere. An empty office or small conference room is ideal. It requires very little space and takes seconds to setup.
The chair massage recipient is seated comfortably in the chair in their full work attire. There are no oils or lotions used. The customary treatment lasts 15 minutes during which the therapist massages the employee's neck, upper and lower back; releasing muscular tension and leaving the client invigorated and energized.
What Does Chair Massage Cost? 
Morgan Massage offers affordable pricing.  Chair Massage rates are calculated by TOTAL HOURS of massage.
These hours are determined by the # of people receiving massages and the length of each massage session.
See Morgan's Chair Massage Pricing below:
Morgan has provided Chair Massage at over 20 companies:
Athena Health (Watertown, MA)
Mount Auburn Hospital (Watertown, MA)
Newton-Wellesley Hospital (Wellesley, MA)
Gillette (Needham, MA)
The Clarks Companies (Newton, MA)
Molecular (Watertown, MA)
Bank of America Investments (Newton, MA)
Alkon & Levine, P.C. (Newton, MA)
Ardence, Inc. (Waltham, MA)
Brightcove (Cambridge, MA)
Brandeis University (Waltham, MA)
Bentley University (Waltham, MA)
Golden Living Center (Newton, MA)
Fresh Pond Animal Hospital (Belmont, MA)
Blueprint Schools Network (Newton, MA)
Sun Life Financial  (Wellesley, MA)
OTA The Koomar Center (Newton, MA)
ClearBridge Technology Group (Billerica, MA)
Cayan-Boston (Boston, MA)
Healthcare Advances (Weston, MA)
Algeus (Waltham, MA)
Uber-Boston (Boston, MA)
Benchmark Senior Living at Waltham Crossings (Waltham, MA)
Forum Systems (Needham, MA)
Cartera Commerce (Lexington, MA)
Health Advances (Weston, MA)
"Morgan's Chair Massages have been a great addition to our supplemental benefit offering at Ardence, Inc. Morgan comes about once a quarter to offer on-site chair massages for our employees. This benefit not only allows our employees to relax, but also assists with ergonomic issues."

– Adriana Lemaire, HR Manager, Ardence, Inc.
Watch Morgan's Chair Massage Video below.
"As a technology company of just under 100 employees, we hired Morgan Massage to provide seated chair massages over a 2-day period, at our office in Cambridge (80% men, 20% women). Morgan was very professional and was able to make each person feel extremely comfortable. He set-up quickly, his equipment was new and clean and he provided a nice touch of light music. He had no problem doing 20+, 15-minute chair massages throughout the day, and the last massage of the day was just as great as the first. I would highly recommend Morgan Massage for any company that is looking to reward it's employees with a professional, relaxing and therapeutic experience!"

– Brightcove, November 2006